Have you ever considered of undertaking an off-road journey across rough terrain to some foreign land? Well, its time you better dig your explorer's heart with the all-new Mongoose Dolomite, a mountain bike that is designed to discover the world of all terrain. This off-road beast is crafted uniquely taking inspiration from the natural elements (Dolomite) of nature, for you to unearth the real pleasure of mountain biking. Mongoose Dolomite is one of the best options in the entry-level fat tire bike for its affordability and performance. And if you are a globetrotter than it enables you to traverse the world riding terrains.
Mongoose Dolomite has been designed with wide tires to withstand the ruggedness of mountain and beach landscapes. For optimum performance, the bike is crafted with an aluminum/steel frame which gives it a perfect balance between lightness and durability. While manufacturing vital importance is being given to the durability of the cycle keeping in mind that you will be using it during off-road and on-road cycling expedition. Dolomite has a 26' by 4' wide tire which helps you to maintain balance and enjoy greater stability when traversing across the different landscape. The extra width of the tires also helps you to handle obstacles and bumps on the roads effectively.
The Dolomite fat tire bike comes with a dual disc brake that ensures that you can stop the bike safely even in wet and risky conditions. The front and the rear disk brake are crafted excellently to work effectively as long as you adjust and align them properly. The hight of the bike is designed suitably for men of different heights. The bigger weight of the bike also adds an extra advantage for users with heavy weight.
The seven gears of the Dolomite is efficient as the derailleur works well with the twist shifters which not only gives you greater control over the gears but also made it easier for you to conquer hills and other rough surfaces. Moreover, Dolomite is very easy to assemble. All you need to do is make a few tweaks here and there on the brakes and other few components before you set for your first ride.
Features of the Mongoose Dolomite Fat Tire Mountain Bike
The Dolomite comes with many features that are designed to facilitate its excellent performance. Additionally, Dolomite comes with every purposeful feature that made it fittingly perfect to be craved and desired if you love fat tire bike.
It comes with 26-inch wheels that are meant to give you better stability and balance on various terrains. The tires are built to give optimum performance even in the rugged surface.
It is fitted with a supersized 26' by 4' all-terrain knobby tires.
The twist shifters of the Dolomite are designed effectively that enables you to change gears easily. The ability to change gears quickly enables you to maintain your speed even in rough terrain.
It features a seven-speed gear with Shimano rear derailleur to facilitate all types of riding. It also helps you to ride faster mainly if you are riding on the mountain road.
The dual disc brakes fitted in Dolomite give you an all-condition braking functionality.
It has a great gear shifting capability with its 3- piece crank.
It is designed with a threadless headset that is intended to make it lightweight and give a greater level of adjustability.
It is crafted with an aluminum/steel to make it both lightweight and durable enough to control by different users.
The 4-inch wheels are designed to grip and hold the surface and to enhance traction that saves you from the possibility of skidding.
It also comes with a beach cruiser pedal that helps you to cruise beaches easily.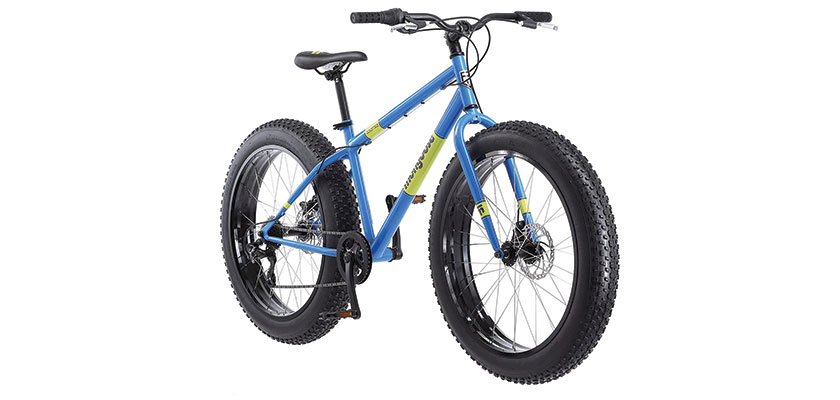 Benefits of Mongoose Dolomite Fat Tire Mountain Bike
The little "mongoose" comes with a lot of benefits that will not only give you value for your money but also give you an enthralling excitement as a cyclist.
Dolomite is very easy to assemble. A few minor tweaks to the bike's derailleur and front disk brake will give you the perfect assembling option to suit your needs.
The 4-inch fat tires give you an advantage of smooth riding.
The chain of the bike is designed in such a way that it is perfectly placed onto the front sprocket and does not pop up to cause any danger.
Its greater weight makes it an ideal choice for heavy riders.
It is one of the best options in terms of affordability.
The fat tires of Dolomite are designed to provide stability on all types of terrain.
The best part of the Dolomite is that it is a multipurpose mobility tool. You can cruise through different geographical environment range from mountain to rough patches.
Check on Amazon
Advantage of Mongoose Dolomite Fat Tire Mountain Bike
The Mongoose Dolomite is designed to give enhanced safety to the user. It is fitted with a stable braking system and is designed to provide optimum safety even in the face of an emergency.
It is designed as an all-terrain bike which enables you to traverse through the different surface with the same stability and performance.
The handlebar is being designed user-friendly for optimum performance.
The rugged wide tires of Dolomite makes it a stable machine for the user.
It is also very easy to assemble as there are some tweaks like the derailleur and the front disk brake that you can assemble and adjust on your own before you set out for the ride.
The mechanism of the chain is crafted in a secure way by perfectly placing it onto the front socket so that it does not interrupt while peddling.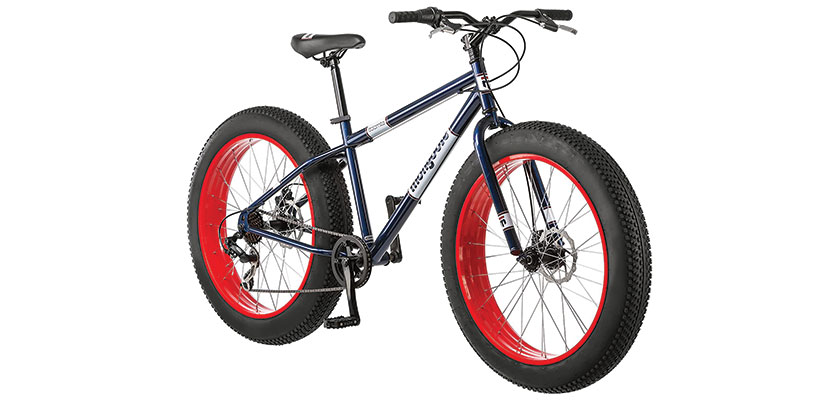 Disadvantage of Mongoose Dolomite Fat Tire Mountain Bike
Despite all the amazing features and benefits, the Dolomite lacks some qualities that act as a major setback from it being a promising choice. The shortcomings are more or less a part of each and everything that's been crafted to deliver the best of quality, so let's take a realistic view at the setback of Mongoose Dolomite Fat Tire Bike.
The common setback of Dolomite is that you need to remove the brakes and have to add some washer if you want to turn them to the mount.
The bottom bracket of the bike is feeble and start wobbling after some time which leaves you with the only choice of replacement.
It has a problem of a changing shifter which increases the chance of accidents and needs to be replaced after some times.
The front brake of Dolomite when pressed makes a loud squealing noise which makes the user complained about the noisy brakes.
Compared to other mountain bikes in this category, it is a bit heavy which may not be the best option for those who are used to pulling sprints.
The Missing Link
The Mongoose Dolomite is best within its range but as nothing is flawless so it has some missing links that need to be improved to deliver better performance. It is felt that the manufacturers need to work on the handlebar of the bike as it is a bit hard. Riding for long can give a numb feeling in your hand. It can be overcome by adding sponge grips to the handlebar for smooth soft handling.
Another shortcoming of the Dolomite bike is the hard saddle which is a common problem among many users. The company can improve this by adding a gel seat which is comfortable for the riding of the user.
Final Verdict on Mongoose Dolomite Fat Tire Mountain Bike
In the entry-level segment Mongoose, Fat Tire Bike is one of the best options as it is fitted with luxurious fat tires. If you are looking for something within an affordable range and decent quality then it is a good option. Moreover, it is very easy to assemble. The fat tires also give a stable performance on different terrains. The mongoose dolomite has a few shortcomings compared to the many benefits that it offers to you. Therefore Mongoose Dolomite is strongly recommended to anyone and everyone who wants to make entry into the world of fat tire bikes.